THE COLLEGE OF MEDICINE, UNIVERSITY OF IBADAN
MOURNS THE PASSING OF
PROFESSOR EMERITUS UMARU SHEHU CON, CFR
Foundation Student (1948 - 1953)
Distinguished Alumnus of the University College Ibadan
Foundation Member, Ibadan College of Medicine Alumni Association
Doctor of Science (honoris causa), University of Ibadan, 2012.
8 December 1930 – 02 October 2023
Since the announcement of the death of Professor Emeritus Umaru Shehu CON, CFR earlier today, the accolades have been pouring in. He has been eulogized on several groups of distinguished academics to which I belong. The tributes flow out constantly as colleagues and mentees express their respect and appreciation for a great man who has passed on. The College of Medicine, University of Ibadan (CoMUI) is greatly privileged and honoured to have had Professor Emeritus Umaru Shehu CON, CFR as a foundation student.
The Faculty of Medicine, University of Ibadan, which later became the College of Medicine, started off in 1948 as one of three Foundational Faculties of the University College, Ibadan: Medicine, Arts and Science. From inception, it was affiliated with the University of London, United Kingdom, and her students completed their clinical training at the University of London and earned their medical degree as MBBS, London. However, upon the completion of the University College Hospital and the improvement in the requisite human resource for full-fledged medical training in Nigeria, this interim arrangement was discontinued, and the clinical years of study were carried out at the University College Hospital, Ibadan.
In a write up released today by Sheriff M. Zanna, he wrote:
"Renowned Professor Emeritus Umaru Shehu, aged 92, who sadly passed away in Maiduguri today Monday 2nd October 2023 was in this foundation class of the College. Professor Shehu was a distinguished scholar whose contributions spanned decades, leaving an indelible mark on the fields of medicine, education and research. Born on December 8, 1930, in Maiduguri, Borno state, Umaru Shehu's life was marked by a dedication to education and a commitment to knowledge.
His educational journey began in Maiduguri, where he attended elementary school from 1935 to 1940, followed by middle school from 1941 to 1943. He pursued higher education at Kaduna College in Zaria from 1944 to 1947 and later at University College Ibadan from 1948 to 1953.
Umaru Shehu's quest for knowledge extended beyond Nigeria's borders, as he spent time at the University of Liverpool in two separate periods, first between 1953 and 1956 and again from 1966 to 1967. It was during these years that he obtained his medical degree from the University of London.
His contributions to education and medicine will be remembered and cherished by the people of Borno and beyond. Professor Emeritus Umaru Shehu leaves behind a legacy of lifelong learning and dedication to his field. Our thoughts and condolences go out to his family, friends, and the community he served".
Professor Wuraola Shokunbi, FAS, CoMUI MBBS Class of 1978, wrote: "Oh dear, Old soldiers never die. We thank God for all you did for the medical profession, Nationally and Internationally. Always calm, soft spoken and gentle. I had the opportunity to meet him twice when I was CMAC in UCH. May your gentle soul Rest in Peace
Amen"
Professor Isaac Adewole FAS, CoMUI MBBS Class of 1978, a former Provost of the College of Medicine and former Vice Chancellor wrote:: A perfect gentleman, superb public health specialist. astute administrator, academic of repute is no more!
Professor Idowu Olayinka FAS, a former Vice-Chancellor of the University of Ibadan wrote:: "I have just learnt of the passage of Professor Emeritus Umaru Shehu at the age of 92 years. What a great loss of a Foundation Student (1948)/ Distinguished Alumnus of the University College Ibadan and recipient of Doctor of Science (honoris causa) of the successor institution, University of Ibadan, in 2012.
In our interactions at the Nigerian Academy of Science he came across as a very humble personality, in spite of his numerous achievements and accomplishments. He will be sorely missed by all of us who knew him. Our condolences to his family, friends and associates over the irreparable loss.
Rest in peace, a great medical scientist, outstanding scholar, and eminent administrator. Good night, Sir".
Professor Idris Mohammed, FAS NNOM, CoMUI graduating Class of 1969 wrote:
"I am still in shock at the loss of this colossus of public health, clinician and administrator par excellence, whose impact on my life endures all the way from 1970 to his demise this morning. A Founding Fellow of the Nigerian Academy of Science, his academic and professional interests were far reaching. When the Nigeria National Merit Award Governing Board was in neglect for over 3 years, it was he who persuaded Abacha to resuscitate it, with him as the Chairman charged with responsibility of doing so, a task he accomplished so very well. Who knows, it would otherwise have died a natural death.
He was instrumental to influencing the late VC Ishaya Audu of ABU to pay my fares to London in pursuit of higher education in January 1971.
He was the first medical officer of health in Northern Nigeria in the early sixties under the Sardauna Sir Ahmadu Bello. He then joined Ahmadu Bello University where he became the first Director of the Institute of Health. After his numerous successful exploits including at the UNN Nsukka, and the WHO as country representative (WR) during which time he brought innumerable public health benefits to Nigeria during late Olikoye Ransome-Kuti's equally impactful tenure as Nigeria's Minister of Health.
Upon retirement from WHO, humble Umaru Shehu came to me in my CMD office at UMTH and asked that he be engaged in daily teaching, research, and service in the Department of Community Medicine. It was more appropriate, I thought, that he be appointed a Professor of Community Medicine at the University of Maiduguri, while the UMTH appointed him consultant public health physician.
So it was that this indefatigable tireless professional insisted on attending my twice weekly medical ward rounds, along with resident doctors and medical students. It was a sobering experience for me.
When it became time to appoint Emeritus Professors, it fell on me as Provost of the College of Medical Sciences to process and recommend his nomination to the Higher Degrees Committee of which I was a member of 5 where I defended it, then to Senate where it was duly approved.
Professor Emeritus Umaru Shehu, CFR established the National Programme on Immunization on which Board he served as Foundation Chairman. When it was time for him to move on, I was offered the Chairmanship which I accepted with trepidation, though I considered it an honour and a privilege of high proportion.
I miss Professor Emeritus Umaru Shehu dearly and sorely. May his gentle kind soul rest in perfect peace in Jannatul Firdaus – Ameen".
Emeritus Professor E. Oluwole Akande, OON, pioneer Provost of CoMUI and pioneer CMD of UCH: "It is so sad to hear of the passing of Emeritus Professor Umaru Shehu, CFR. He was indeed an Icon who lived a fruitful and fulfilled life. He has left an indelible mark in the history of Nigerian Medicine and his legacy will live long after him. May his soul rest in perfect peace and may God grant us, the Nigerian Medical community, and his family the fortitude to bear this irreparable loss".
Deep Gratitude to Chief (Prof.) Olajide O. Ajayi CON, FACS (Hon.)
I express my deep gratitude to Chief (Prof.) Olajide O. Ajayi CON, FACS (Hon.), my 87-year-old teacher from medical school and a former Chief Medical Director (CMD) of the University College Hospital who was privileged to have Professor Umaru Shehu as Chairman of the Board of Management of UCH during his tenure. I am deeply honoured to share his tribute, crafted beautifully as he typed this evening on his computer, to demonstrate his respect and desire to honour the memory of a great personality. A worthy honour to Professor Umaru Shehu.
Olayinka Omigbodun FAS
Professor of Psychiatry & Provost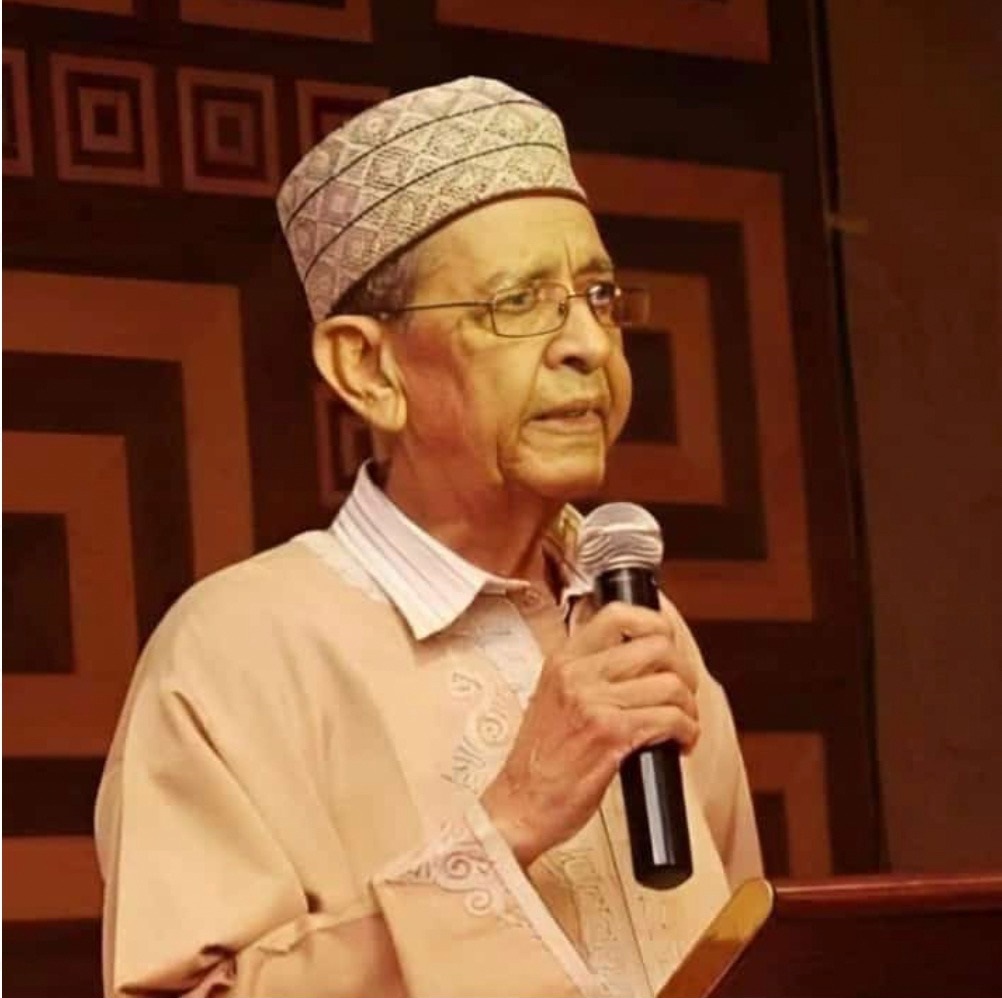 EMERITUS PROFESSOR UMARU SHEHU, CON, CFR, NNOM, FAS
The unexpected request at short notice to add a few lines to the tribute of the College of Medicine, University of Ibadan, on the passage of Professor Umaru Shehu, a 1948 Foundation student in the Faculty of Medicine of the University of Ibadan and a former Chairman of the Board of Management of the University College Hospital, had the impact of an anxious moment even in the élan of a trapeze artist.
The privilege of a close relationship emerged with his appointment as the Chairman of the UCH Management Board in January 1991. He had supplemented his wide scholarly exposures in Community Medicine to the levels of Professor and Director of the Institute of Health at Ahmadu Bello University, Zaria Vice-Chancellor of the University of Nigeria, Nsukka (1978-80). He had acquired wide national and international experiences as World Health Organization programme director in Nigeria; a sub-regional programme co-ordinator and its sole representative in Ethiopia in 1990. His familiarity with the people and the metropolis of Ibadan (the home of his Alma Mater), reflected strongly in his understanding and evolution of relevant and innovative development programmes by the Board of Management, synchronous with the transformation of a Faculty into a University Collegiate system, both in undergraduate and postgraduate medical education, in the associate teaching hospital.
His paternal touch further promoted the development of postgraduate medical programmes in the University of Maiduguri Teaching Hospital through broad-based opportunities for Supernumerary Residents from Maiduguri.
The warmth created with individuals and their families did not erode with the dissolution of the UCH Board of Management in 1994. He called the Office of the CMD frequently to seek administrative advice whenever he needed information for use elsewhere. I will always remember his attendance at the marriage of my daughter in March 1992 and his day- return condolence visit on the demise of my wife in July 2005.
He is already on The Lord's side, in the peace and purity of eternity.
Chief (Prof.) Olajide O. Ajayi CON, FACS (Hon.)