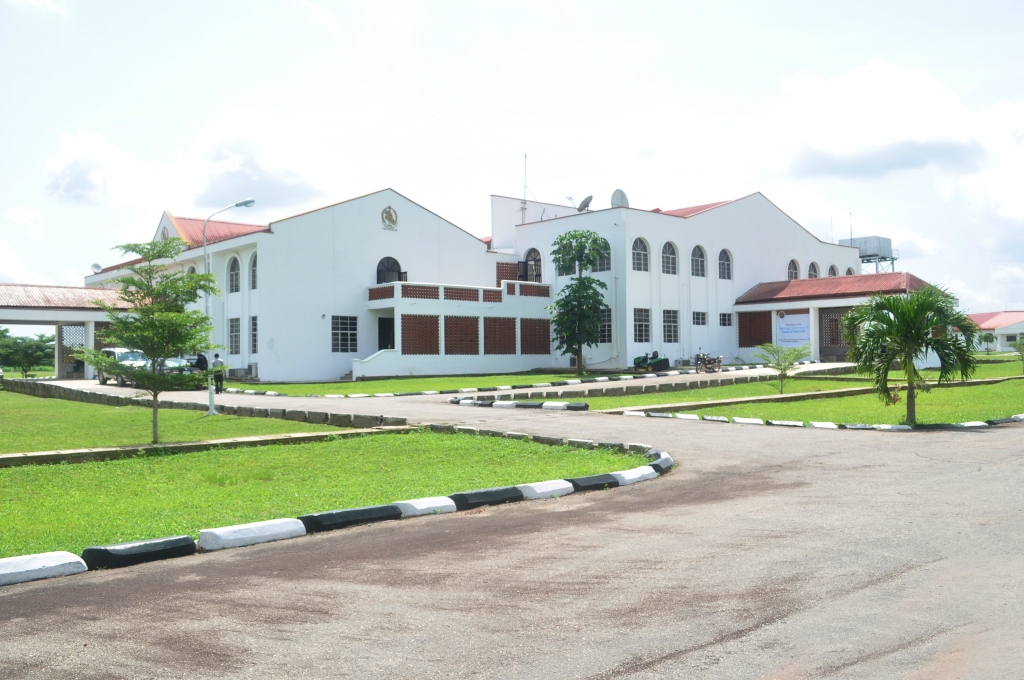 OTUNBA TUNWASE NATIONAL PAEDIATRICS CENTRE (O.T. N. P. C.)
Sagamu-Benin Express Road, ljebu-Ode.
MISSION
To continually improve and maintain services, training and research at the health facility by:
Producing a conducive environment for medical training and research for advancement of knowledge and production of health specialists.

Building a team of competent, committed staff with high sense of responsibility, and integrity for the delivery of healthcare services.

Provision of holistic, evidenced-based and patient centred clinical services with skilled medical and well equipped paramedical support.
VISION
To be world class health care facility providing comprehensive qualitative and accessible health care services to all categories of patients in a friendly environment meeting the health needs of the society.
The Otunba Tunwase National Paediatric Centre, Ijebu Ode was conceived as a tertiary Medical Institution for teaching, research and healthcare delivery.
The hospital was solely built by Otunba Dr. Michael Olasubomi Balogun CON a philanthropist and doyen of Nigeria banking and Finance Industry.
At the initial stage the hospital was a Paediatric Centre, however, the services have since diversified to include the following:
The hospital stated operation in 2008 under a Pioneer part-time Medical Director Prof. M.A Bankole who was a Consultant Paediatrician Surgeon at the Lagos State University Teaching Hospital (LASUTH) Medical Officers and Nurses were seconded from the Olabisi Onabanjo University Teaching Hospital, Sagamu for out-patient services.
In March 2009 with the appointment of the former Minister of Health Prof. Adenike Grange as the Medical Director, the hospital began the recruitment of its own medical staff. These included full time Consultant O&G, Medical Officers, Nurses, Pharmacist and Laboratory Scientists. Part-time Paediatrician Consultants were retained from the Olabisi Onabanjo University Teaching Hospital (OOUTH).
The hospital has grown from the initial average of 200 out-patients per month to over 600 out-patients per month as of now.
DEPARTMENTS
The Centre operates under the following departments
Administration

Accounts Dept.

Clinicals Dept.

Nursing Dept

Health Information Management Dept.

Laboratory Dept.

Radiology Dept

Maintenance/Information Technology Dept.

Ventures/NHIS Dept.
INFRASTRUCTURE
The hospital consists of an administrative block which houses 2 lecture halls, a 1000 seater auditorium, a board room, a library, offices, as well as a cafeteria.
There is also a Clinical building which consists of Consulting rooms, Male, Female and Children wards, 2 (two) operational theatres, a medical
laboratory unit, Pharmacy, a neonatal intensive care unit and call duty rooms. There are also 3 accommodation facilities, labelled as Phase 1, Phase 2
and Phase 3.
Phase 1 Accommodation unit: The Phase 1 unit houses some junior staff and students on Industrial Attachment from the neighbouring Ogun State College of Health Technology and POGIL School of Health Technology. There are 30 rooms each with 2 beds and shared toilet facilities.
Phase 2 Accommodation: The Phase 2 accommodation has a 28 self contained apartment with a sitting room, bed room, kitchen and toilet facilities. These are for senior staff, Consultants and Resident doctors.
Phase 3 Accommodation: This also has 28 rooms out if which 15 are reserved for Medical student who have been coming on rotation to the Centre.
WATER SUPPLY: The hospital has 3 (Three) functioning bore holes that supply constant water.
POWER: Apart from the general public electricity, the hospital also has 2 (two) standby generators for its use.
TAKE OVER BY THE COLLEGE OF MEDICINE, UI
In June 2012, the hospital was donated as a total gift to the University of Ibadan, College of Medicine. The College of Medicine seconded Prof. F.A Fehintola to the Centre as the Medical Director in December 2012.The current Medical Director Dr. Adekemi Fadipe assumed duty in November 2014.
The hospital has been rendering quality healthcare not only to the immediate community but also to other states of the federation including Lagos, Oyo, Ondo and Edo States.
NATIONAL HEALTH INSURANCE SCHEME (NHIS)
As a tertiary hospital that render healthcare to male, female, children and adults, the hospital has embraced the National Health Insurance Scheme.
We have Health Management Organisations whose (HMO) patients are 111 registered with the Centre as follows:
Defence Health Maintenance Ltd

Sterling Health

Premier Medicaid

Hygeia HMO

Mediplan Healthcare Ltd

Clear Line HMO Ltd

Healthcare Int'l Ltd

Precious HMO Ltd

United Healthcare Inter'l

Total Health Trust

Maayoit Healthcare

Police HMO

Mansard Health
ONGOING PROJECT
THE BUILDING OF MORTUARY: As part of its effort to respond to the needs of the people in its immediate environment, the Management Board agreed to establish a Mortuary at the Centre. The Mortuary building project commenced in October 2016.
FUTURE DEVELOPMENT
The Centre also propose to have an Accident & Emergency Unit (A&E) and additional Medical and Surgical Wards in the nearest future.