Professor Ayoola Olayiwola FOLAMI (MB; BS (London), FRCP (CANADA), DABD, Cert. Immuno, FWACP. Paed.)
Acting Head of Paediatrics (December 1987 to October 1989), College of Medicine, University of Ibadan (1932-2022)
It is with much sadness but deep gratitude to God, that I announce the demise of a teacher of teachers and a mentor of mentors, Professor Ayoola Olayiwola FOLAMI, on Friday, 25 February 2022 at the age of 89 years. The Head of Paediatrics, Professor Regina Oladokun had very kindly provided a write up on Professor Folami as follows:
TRIBUTE TO PROFESSOR A. O. FOLAMI
Professor Folami did his residency training in paediatrics at the University College Hospital from December 1968 to June 1970 and had further training at the Hospital for Sick Children in Canada where he obtained a Fellowship of the Royal College of Physicians and Surgeons of Canada in the subspecialty of Nephrology in 1974. Additionally, he obtained the American Board Diploma in Pediatrics in 1977. He received the Sir Mobolaji Bank-Anthony and Fogarty International scholarships and obtained a Fellowship at the Pediatric Nephrology Unit of the University of Minnesota Teaching Hospital (1978 - 1980). He was a Foundation Fellow of the West African College of Physicians (1980).
He was appointed a Lecturer in the University of Ibadan and Honorary Consultant Paediatrician in the Department of Paediatrics in June 1976. He was the Acting Head of Department of Paediatrics from December 1987 to October 1989. He retired voluntarily as a Senior Lecturer from the service of the University in October 1989.
He was undoubtedly a great teacher, an astute clinician and mentor who contributed in no small measure to the growth of our department. Those that worked or trained under him say he was an epitome of humility and kindness, with deep and sound knowledge that earned him the name "a moving encyclopaedia". He respected everyone, young and old. He rescued many during the almighty mortality meetings. Most students, resident doctors and young faculty drifted towards him for succour. Even after his retirement, he maintained his support and contact with the Department, coming by to visit, teach and encourage the staff and students.
He also contributed to the development and growth of paediatrics in other institutions within and outside Nigeria, notably, the King FAHD Specialist Hospital, Buraidah, Saudi Arabia 1988 and the Olabisi Onabanjo University, Sagamu, Ogun State where he became a Professor in 1998. As a Medical Superintendent and Paediatric Consultant at St Mary's Catholic Hospital, Eleta, Ibadan, he took the facility to a higher level under his leadership between 2002 and 2010.
His legacy lives on in the Department. We will miss the quiet support of one so humble and beautiful at heart. Our sincere condolences go to members of his nuclear and extended family, as well as friends, colleagues and all whose lives he touched in one way or another.
May Baba's soul rest in peace!
Regina Oladokun
Professor and Head of Paediatrics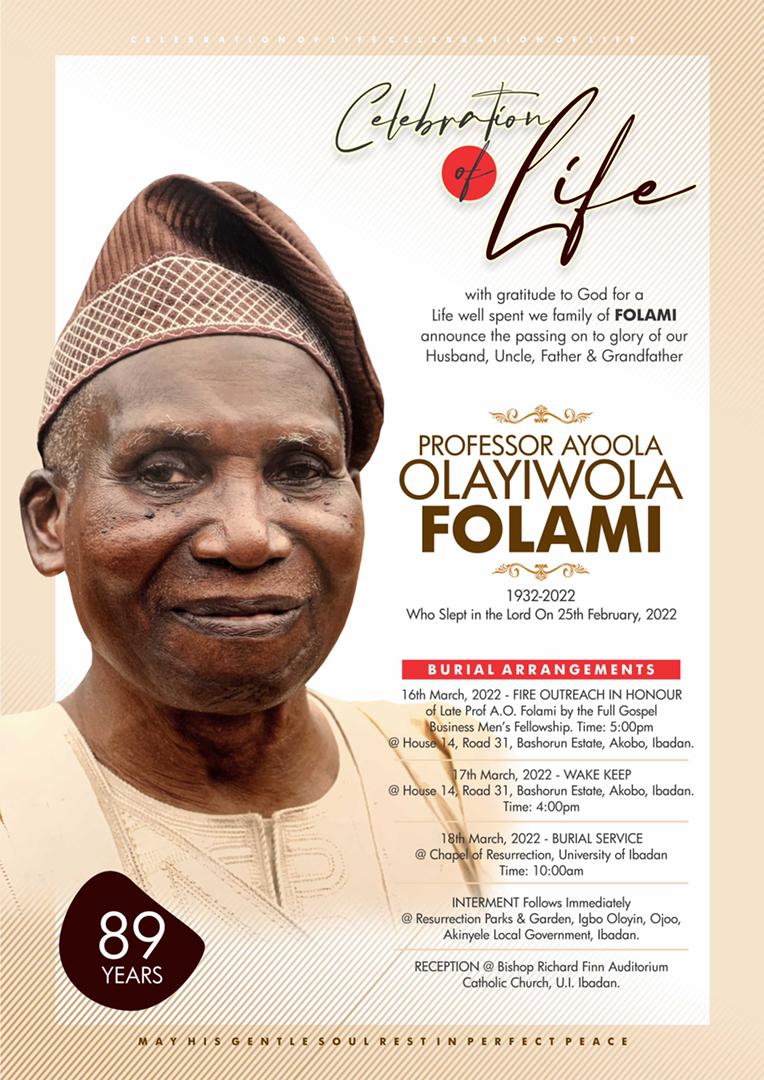 I remember Professor Folami as a soft-spoken, kind teacher who wanted the very best for his students. His legacy lives on in the lives he touched. I pray that God will comfort his family, friends and the CoMUI Community.
Olayinka Omigbodun
Professor of Psychiatry and Provost