Professor Adewole receiving the award alongside his wife, Dr. Olubukola Adesina-Adewole, Reader in Obstetrics and Gynaecology and Chairman CoMUI, Student Welfare Committee.
Professor Isaac Folorunso Adewole FAS was decorated yesterday in Abuja with the Order of Rising Star, Gold and Silver Star of Japan. This event coincided with the 62nd birthday of the Emperor of Japan, His Majesty, Emperor Nahurito. The decoration was done by the Japanese Ambassador to Nigeria on behalf of His Majesty by the Ambassador Extraordinary and Plenipotentiary of Japan to the Federal Republic of Nigeria, H.R. MATSUNAGA Kazuyoshi.
This award was the 2020 Spring Conferment, which was delayed on account of the COVID pandemic. The award is in recognition of his performance as Minister of Health of Nigeria and for promoting a closer Japanese-Nigeria relationship.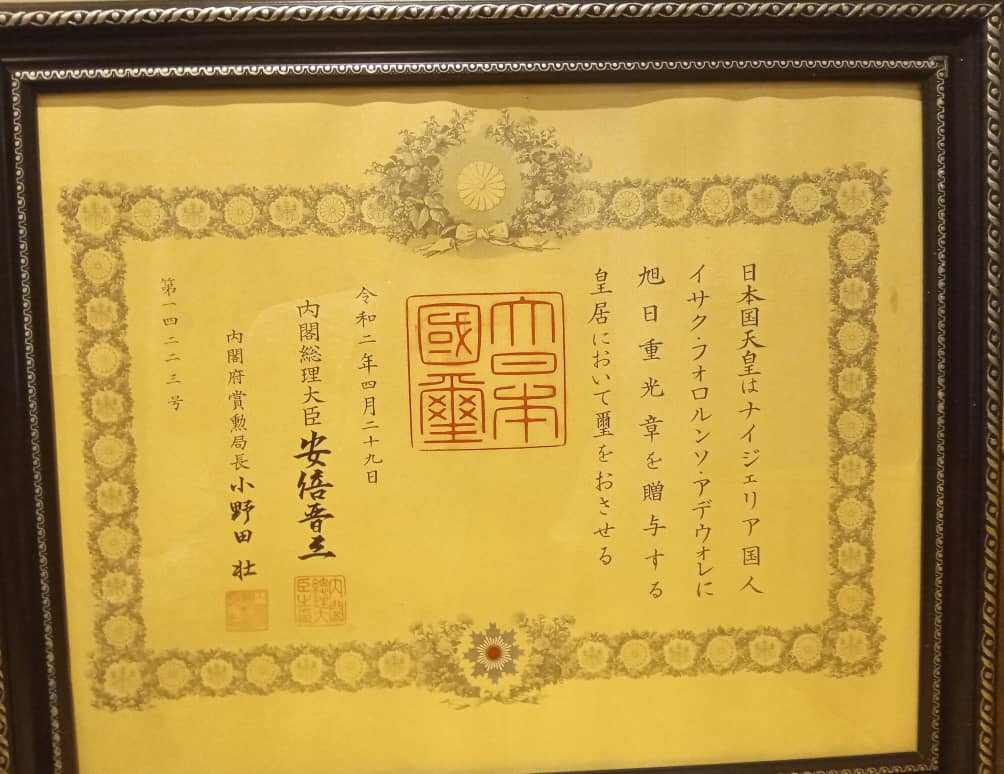 On behalf of the Staff, Students and Alumni of the College of Medicine, University of Ibadan (CoMUI), I congratulate Professor I.F. Adewole FAS, Representative of the Academic Board on the Court of Governors. We celebrate with a worthy alumnus, a distinguished Professor of Obstetrics and Gynaecology, a former Provost, former Vice-Chancellor of the University of Ibadan and former Honourable Minister of Health of the Federal Republic of Nigeria.
Professor Adewole is a member of the CoMUI MBBS graduating class of 1978.
Olayinka Omigbodun FAS
Professor of Psychiatry and Provost
CoMUI MBBS Graduating Class of 1985