The Department of Nursing, College of Medicine, University of Ibadan, is organizing a valedictory lecture in honour of Professor O. Abimbola Oluwatosin. The event aims to celebrate her significant contributions to the field of nursing and her accomplishments throughout her career. The Valedictory Lecture will be delivered by Dr. Kemi Olowookere from Obafemi Awolowo University, Ile-Ife. Professor Omolara Irinoye will serve as the Chairperson of the occasion.
Event Details:
Topic: Community Health Nursing in the Contemporary World: The Nigerian Context, Prospects, and the Way Forward
Date: July 7, 2023
Time: 11:00 AM West Central Africa
Join Zoom Meeting: CLICK HERE
Meeting ID: 843 4148 4563
Passcode: 430638
YouTube Livestream Link: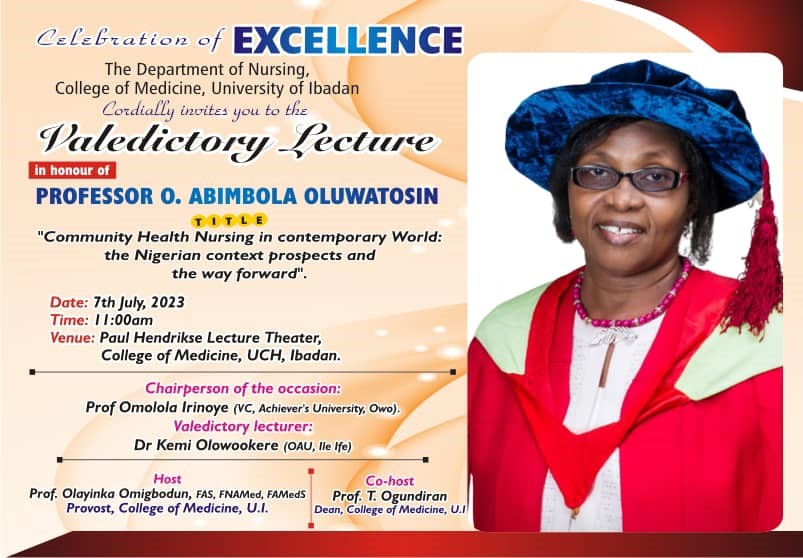 Profile
Professor Oyeninhun Abimbola Oluwatosin is a highly esteemed nursing professional and academician who has made significant contributions to the field. Born on July 1, 1956, in Ogbomosho, Oyo State, Nigeria, she is the first child of her parents, Pa Elijah Oyekunle Dare and Mama Elizabeth Oyinlola Dare.
Professor Oluwatosin began her educational journey at Reagan Memorial Baptist Primary School in Lagos and later attended Baptist High School in Iwo. She furthered her studies at the Federal School of Science in Victoria Island. Her passion for nursing led her to pursue her registered nursing training at the renowned School of Nursing, University College Hospital (UCH), Ibadan, from 1975 to 1978.
After completing her nursing training, Professor Oluwatosin worked briefly in the Paediatrics, D2 Ward at the Lagos University Teaching Hospital (LUTH) in Idi Araba. She went on to pursue her midwifery training at the School of Midwifery, Sacred Heart Hospital, Lantoro, Abeokuta. Throughout her career, she worked at various healthcare facilities, including the Male Medical Ward at the State Hospital, Idiaba Abeokuta, and St Mary's Catholic Hospital, Eleta in Ibadan.
In 1984, she earned her B.Sc. Nursing (Education) with second-class upper honours from the University of Ibadan. She then served as a lecturer at the School of Hygiene in Eleyele during her National Youth Service Corps (NYSC). Professor Oluwatosin continued her academic pursuits and obtained an M.Sc. in Nursing (Community Health Nursing) in 1995 and a Ph.D. in Nursing (Community Health Nursing) in 2005, both from the University of Ibadan.
Throughout her career, Professor Oluwatosin has been actively involved in teaching and research. She joined the Department of Nursing at the University of Ibadan as an Assistant Lecturer in 1996 and steadily progressed to become a Professor of Nursing in 2014. She has taught students at various levels, including B.Sc., PGDN, M.Sc., and Ph.D.
Professor Oluwatosin has supervised numerous research projects and has been instrumental in the successful completion of several undergraduate, master's, and Ph.D. theses. Her dedication to research and mentorship is evident in her encouragement for her students to publish their work. She has also organized research workshops to facilitate the effective dissemination of research findings.
In addition to her academic roles, Professor Oluwatosin has actively contributed to administrative positions and community service. She served as the Departmental Examination Officer from 1999 to 2006 and held the position of Post Graduate Coordinator from 2006 to 2008 and from August 2012 to October 2017. She has also served as the Acting Head of Department from August 2008 to July 2010 and has been a member of various committees, including the Faculty Appointment and Promotion Panel.
Professor Oluwatosin's community service extends beyond the university. She has been involved in the Nursing and Midwifery Council of Nigeria as the Oyo State Chairperson for the Mandatory Continuing Professional Development Program from 2013 to 2016. She has also held positions in organizations such as the African Organization for Research and Training in Cancer (AORTIC), where she served as the Vice President (Nursing Representative) from 2013 to 2017.
Furthermore, Professor Oluwatosin has engaged in international collaborations and experiences. She had a sabbatical year at the Department of Nursing Science, Obafemi Awolowo University, Ile Ife, in 2011. She also spent a period of accumulated leave and a sabbatical year at the Faculty of Nursing Science, University of Medical Sciences (UNIMED) in Ondo from October 2017 to February 2019. During her time at UNIMED, she served as the Acting Dean for the Faculty of Nursing Science. Professor Oluwatosin's dedication and expertise have been recognized through her appointment as an Adjunct Professor of Nursing at Western Sydney University in Australia.
She continues to contribute to the field of nursing through her research, teaching, and leadership roles.