A few days ago, I received a write up on Mrs Ayodele Mosunmola Tubi from the only male lecturer in the Department of Nursing, Professor F. A. Okanlawon announcing the passing of his teacher and it reads:
"Farewell to a Great Teacher of Teachers!
Some people are naturally endowed with the ability to encourage and motivate others. In every utterance and action, they initiate a course of action or inspire others. Grandma Ayodele Mosunmola Tubi would easily stand out in this class of such people. Grandma Tubi was a great teacher, excellent mentor and an academic giant. She had a God given skill for mentoring, which was sharpened by her experiences in the various institutions where she had trained. She had her Midwifery training at Massey street Dispensary, Lagos (1946-1949), State Registered Nursing training at Steppinghill Hospital, Stockport, England, (1954-1957), SCN at Muswellhill Hospital, London and Redhill Hospital, Surrey, England, (1958-1/959), Diploma in Premature Babies, University College Hospital, London, England (1959-1960), BN degree in 1965 at McGill University, MSc. Nursing in 1970 at Boston University, MPhil in 1977 at the University of Ibadan. She had several awards for academic excellence.
She assumed duty in the University of Ibadan in October in 1967 and served the University in various capacities as Mistress of Queen Elizabeth Hall, 1983-1984, the Head of Department of Nursing for many years. She retired in 1986.
As a great teacher, Grandma Tubi made her immense contributions to the Nursing Profession and to humanity. She cared so deeply about her students of whom I am one of them. Her life was like a canopy that provided a shade to many. Grandma, you have touched many lives positively and you have left an indelible legacy for so many people. Sleep on, Grandma, Adieu!
Professor F. A. Okanlawon"
Mrs Ayodele Mosunmola Tubi passed away on 17 November 2022 but she had written her Autobiography at her 90th Birthday Celebration and I invite you to read excerpts from this narrative depicting a very rich, impactful and fulfilled life.
Autobiography by Mrs Ayodele Tubi written for her 90th Birthday Celebration
"I am the first-born of my parents; I was born on the 16th September 1927 in Kano to late Pa Daniel Olofunwa Ogunseinde and late Mama Victoria Bolaji Ogunseinde (Nee Ogunnaike) both of Odo-Jobore in ljebu South Local Government (about 14 kilometers from Ijebu Ode).
My dad was a trader and goldsmith. Papa fondly referred to me as 'England lady' because he often included outfits for me in the overseas order of goods he sold in his shop. Our family lived on Church St., or Yoruba Street where many Yorubas lived; there was bond of friendship among them. Our family and the family of late Papa and Mama Mabogunje were very close; we lived in the same compound - Plot F16.
My formative years were in Kano where I started my primary education at the Holy Trinity School, Sabongeri Kano. One of my classmates was Dr. Abayomi Oshin - he too celebrated his 90th birthday last year. At a time when girls education was generally not considered as important as that of boys. My dad appreciated the value of equal opportunity for all his children. It was this passion that made him to arrange with his cousin who lived in and worked at the 'Secretariat' in Lagos to take me to Lagos at the tender age of 11 years. He believed that I would have a better education there.
Through the arrangement of this cousin of his, late Mr. A. A. Osunsanya, I lived with late Mr. & Mrs. Hughes of 5, Simpson Street, Lafiaji for 7 years. Mrs. Hughes was an elegant lady and a disciplinarian! My day started at 5am in order to complete my morning chores, which included the grinding of pepper for the day's cooking. I learnt my Latin vocabulary in rhythm with the grinding stone, (Voco, vocare, vocavi, vocatum) and presented myself for inspection before leaving for school to ascertain that I was neat. She was meticulous and she taught me to be smart in my appearance and in my work. She also taught me to know that, "Hard work never killed anyone."
I attended St Peter's School, Faji, Lagos for a year (and in January 1940, gained admission to one of the 3 prestigious schools for girls at that time - the C.M.S. Girls School, Lagos. Five of the ten of us who finished in form 6 in 1945 and are still alive, are (1) Ojuolape Elliot (nee Soremekun) (2) Moreen Olaopa (Nee Taiwo) (3) Funlayo Osinibi (Nee Onaderu) (4) Grace Nzegwu (Nee Yoloye) and myself (5) Ayodele Tubi (nee Ogunseinde). All of us passed the Senior Cambridge Examination (form 6) a few including myself passed with Exemption from London Matriculation in December 1945. Our class was the 1st (first) set to study General Science. Most of our teachers were expatriate. I participated in all school games and was the goalkeeper for the Netball team. I was the Vice Captain of St. Benedict's House in 1944 and House Captain in 1945.
I started work in January 1946 at the Savings Bank Section of the P&T for a brief period but later opted for a carrier in Nursing. I started at Massey Street Dispensary, Lagos from 1950 – 1954 then proceeded to the U.K. in May 1954 to start my Nursing Training at Stepping Hill Hospital, Stockport, Cheshire. I passed out in 1957. My Midwifery Training was at Mussel Hill Hospital, London and at Redhill County Hospital Surrey. I later worked as a Staff Midwife at the Redhill Hospital till the end of 1958. I did a Diploma course in Premature Baby Nursing at the University College Hospital, Gower Street, London in 1960. On my return home in October 1960, I worked briefly at the Military Hospital, Kaduna in 1961, but had to resign when I turned down the offer to go to the Congo, as a commissioned nurse. That same year I was appointed by the Ministry of Health, Western region as a Nursing Sister and posted to ljebu-Ode. Among my colleagues there were Chief (Mrs.) O. Alade (retired Principal, School of Nursing, UCH Ibadan. Mrs. Joko Ojo, also a retired tutor at the School of Nursing, University College Hospital (UCH), Ibadan and we have since remained good friends.
In 1962, I was transferred to Uromi General Hospital and was the first Nursing Sister to work in that hospital. While there, the Ministry of Health awarded me a Canadian Scholarship to do a degree course in Nursing at McGill University, Montreal, Canada. I got my Bachelor Degree in Nursing in 1965. On my return, I taught at the Preliminary Training Midwifery School, Oritamefa.
In September 1967, I was seconded to the Department of Nursing, College of Medicine, University of Ibadan. It was a new department, the first in Africa, South of the Sahara. A colleague and I were the first 2 Nigerians to be appointed as lecturers, the other members were expatriates working with the W.H.O who came to assist with starting off the degree programme. The programme was for graduate nurses to obtain a degree in nursing after 3-years of study. The following year in 1968, I was awarded a WHO Scholarship to do a Master's degree in Nursing at the Boston University, Massachusetts, USA. It was a 2-year programme. I was awarded a Certificate for Academic Excellence by the International Students Association at the end of my first academic year. I returned to the University of Ibadan in July 1970 having obtained a Masters degree in Nursing. I was Hall Warden of Queen's Hall for over 5 years. I was a member of some committees of the University and of the College of Medicine. I was a member of Senate for some years.
I am a Foundation Fellow of the West Africa College of Nursing (WACN). I was active in the professional field. I held various offices of the WACN – at one time I was Chairperson, Faculty of Medical/Surgical Nursing. At another time, Chairperson of the accreditation Committee (both of the Nigeria Chapter of WACN). In July 2006, I received an award from the Fellows of the Faculty of Medical / Surgical Nursing, (Dept of Nursing LAUTECH), Osogbo in recognition of the Leadership Services and contribution to the Nursing Profession. The Department gave a similar award to me during its 40th and 50th anniversary for meritorious service.
I retired from the University in October 1986 and took up a job as the In-Country Representative of a Non-Governmental none profit International Organization (IPAS) based in North Carolina USA. I worked with IPAS for 15 years. It was a very rewarding and fulfilling job. It afforded me the opportunity of helping women with related reproductive health problems, meeting people and travelling to various parts of Nigeria e.g., Ihugh, Obudu, Mkar, Maiduguri (to name a few) and other African countries such as Zimbabwe, Kenya, Ghana as well as the US. The period with IPAS was one of the happiest times of my life even though some of the travels had dangerous moments.
I was Charter President of the Soroptimist International, Ibadan North in 1984. The Club's focus was to help the less privilege within the North zone of Ibadan and some villages. I am a member of African Gerontological Society, (AGES) International. It is an organization concerned with the process of ageing and living well in old was age.
I grew up an Anglican but became a Baptist by marriage to my husband Babalola Tubi in 1949 The marriage is blessed with 3 boys (now big men). I have always been an active member of the Baptist Women Missionary Union. In 1975, I was elected the President of the WMU Oritamefa Baptist Church. I went on Holy Pilgrimage to Jerusalem in August 1986. I joined the University of Ibadan Baptist Church in 1982 and have since been an active member.
I thank God for all these He has helped and spared me in good health and sound mind to see even my great grand children.
Finally, as I look back at my life and see how far you have brought me Lord, I cannot but give you all the glory, honour and adoration. Lord, I appreciate You, I worship your Majesty. I thank You for my successes, challenges, failures, good health and the spirit of endurance and perseverance to go through all the changing scenes of my life. This has not been by my strength, power or knowledge but by Your Spirit. Surely, Your steadfast love for me has never ceased. Your mercies have been endless.
Great is Your faithfulness O Lord, my Saviour. I will forever lift You up and praise You and rely on You. I know that my Redeemer lives and with You as my constant companion, I can face the unknown tomorrow. Thank you Lord Jesus".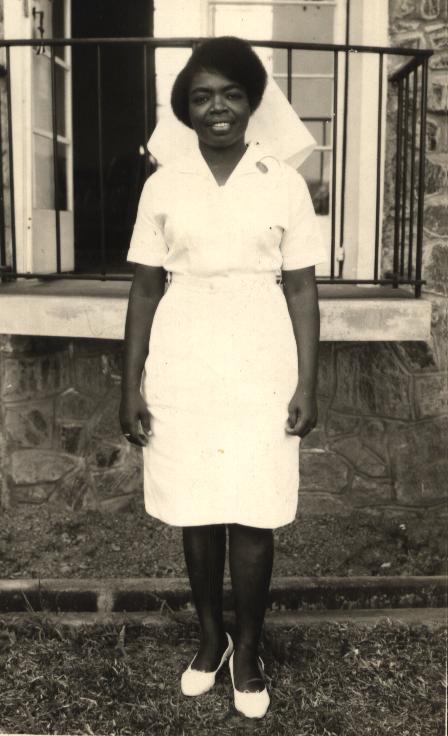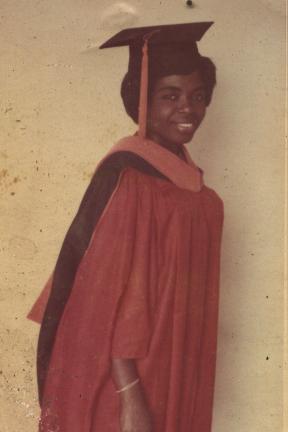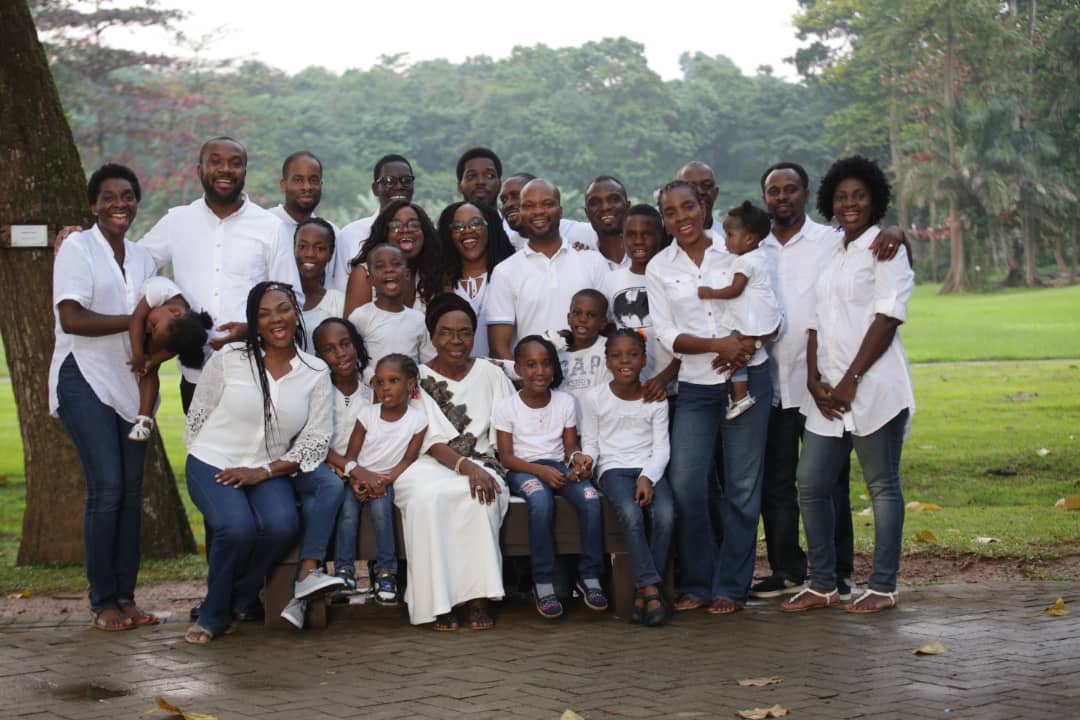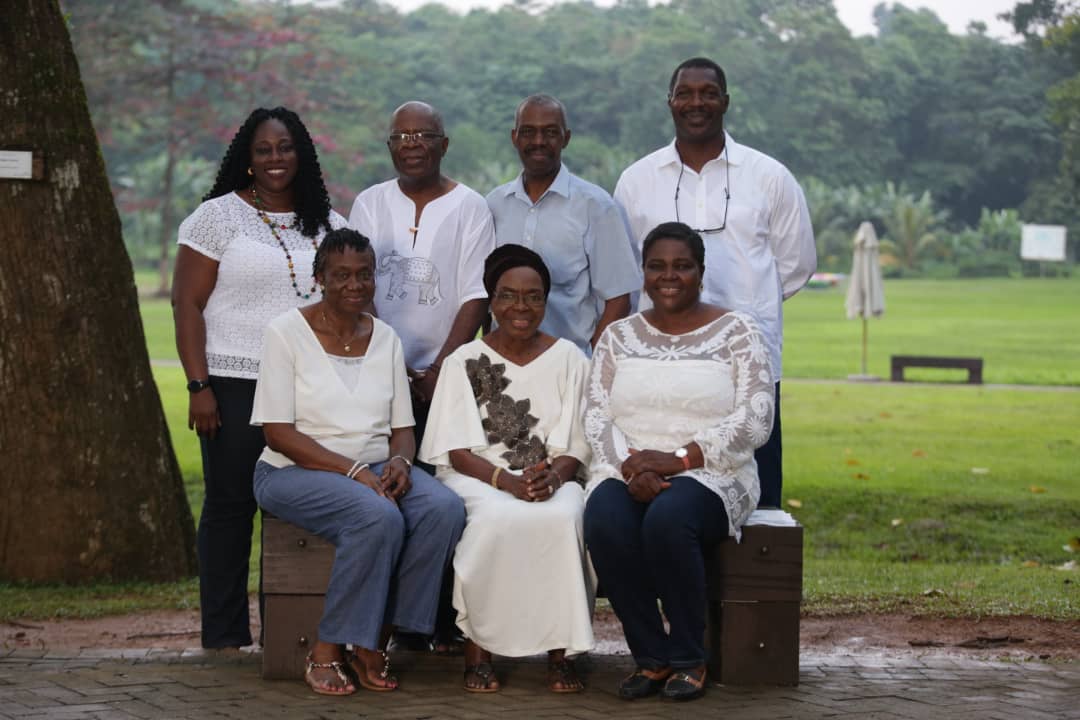 You can watch the various ceremonies held in her honour at these links
Service of Songs: https://www.facebook.com/watch/live/?ref=watch_permalink&v=207246704940553
Funeral Service: https://www.facebook.com/watch/live/?ref=watch_permalink&v=600625454497678
On behalf of the Staff, Students and Alumni of the College of Medicine, University of Ibadan, I extend our condolences to the family and friends of Mrs Tubi. She lived a long rich and fulfilled life and we are very grateful for her service to the College of Medicine, University of Ibadan.
The memory of the just is blessed!
Olayinka Olusola Omigbodun FAS, FNAMed, FAMedS
Professor of Psychiatry & Provost