Speech of the Provost, College of Medicine, University of Ibadan
at the Lying-in-State Programme for
EMERITUS PROFESSOR T.O. OGUNLESI O.F.R., F.A.S.,
D.Sc. (Hons), L.S.M. (Nig), FRCP (Edin), FRCP (Lond), FMCP (Nig), FWACP (West Africa)
12 July 1923 – 19 January 2023
Date: 12 April 2023
Venue: Trenchard Hall, University of Ibadan
Hosted by
Department of Medicine, College of Medicine, University of Ibadan.
Mr Vice Chancellor sir, on behalf of the entire staff, students and alumni of the College of Medicine, University of Ibadan, I express our heartfelt condolences to the children, grandchildren, family biological and family academic of EMERITUS PROFESSOR THEOPHILUS O. OGUNLESI O.F.R., F.A.S. whose transition was on Thursday 19 January 2023.
I have decided to describe my encounters with Emeritus Professor Ogunlesi through reading his memoirs, described by Chief Dr. M. A. Majekodunmi CFR in his foreword to the book as "a well-written, detailed, orderly and mine of information, not only about himself, but also about the development of medical education and medical care in modern-day Nigeria". I describe encounters through letters he had written to me in the last few months which reveal his passion and vision. I also describe him through the phone calls I was privileged to receive from him. I was also privileged to meet with him just a few months ago and share his thoughts as he approached his centenary birthday. What a great privilege to have received tutelage from a pioneer in the medical field in his 100th year. I count myself truly privileged and blessed.
Lessons learnt from visiting him while he was admitted into the Babcock University Teaching Hospital
On 11 September 2022, I was returning from a trip abroad and Papa Ogunlesi had requested that I visit him. At that time, he was admitted at the Babcock University Teaching Hospital. We turned off the Lagos-Ibadan Road and went to meet with him. My first feeling was sadness that he was not in the University College Hospital, Ibadan. He was very upbeat and had prepared for my visit, for he had with him several books he felt were important for me to have, read and digest. He wanted me to write the names of all the books down and so, before I left, I took photographs of each of them. The books were majorly about Igbo-Ora project:
A History of the Nigerian Health Services by Ralph Schram (Reader in Community Medicine, Ahmadu Bello University, Published by Ibadan University Press.1460-1960 with an introduction by Sir Samuel Manuwa
25 years of the Ibarapa Community Health Programme, Edited by ABOO Oyediran and WR. Brieger
Ibarapa Project, University of Ibadan, Faculty of Medicine (Ibarapa Project Bulletin No 5 with contents such as the district and the people, objectives of the project and Financing the Project
Students at Igbo-Ora, University of Ibadan
Igbo-Ora in Connectivity, Rising to Global Benefits
He also had a book titled, "The Man, Adetokunbo Lucas", Edited by Bolanle Awe, Oyinade Olurin & Kayode Oyediran. He also presented his memoirs, titled "Medicine My Passport" which I had read as we had this in our home.
He implored me to get copies of all these books from the University Library and ensure I read them. I promised him that I would try to.
Coincidentally in 2018, I was very privileged to have delivered the Mabayoje Lecture on behalf of the Faculty of Psychiatry at the annual conference and scientific meeting of the West African College of Physicians (WACP) in Freetown Sierra Leone. In learning about Mabayoje amongst others, I studied "Medicine, My Passport" and I quoted Emeritus Ogunlesi several times during my lecture as he wrote about of Dr. Olu Mabayoje.
"I left Nigeria with a strong determination to follow the footsteps of Dr. Olu Mabayoje, who had earlier blazed the trail in Dublin in 1948 by taking all the examinations of the medical course, one by one, beginning with Anatomy & Physiology & passing each & everyone of the examinations of the entire medical course of 6 years – all within 12 months!"
"More importantly, the credit for leading the way, and for taking the first steps which paved the way for the introduction of systematic training and examinations into Nigeria at the postgraduate level, belongs unquestionably, to Dr. J. O. Mabayoje, at the time when he was the Registrar of the Nigerian Medical Council."
"Dr. Mabayoje had the patriotic zeal, the intellect, & the professional vision, to explore to the fullest, the provisions of the Act which set up the Nigeria Medical Council in 1963, and he and his colleagues on the Council at that time used their position on the council to lay the foundation of professional postgraduate training & examination in Nigeria as they exist today".
How many men and I must add, how many women will truly boast about another in their memoirs? Papa Ogunlesi did…. showcasing another giant, but beyond that, expressing the determination to follow in his footsteps revealed a great mind.
"There's nothing wrong with being a great follower. Especially when you're following with leadership intent. What you learn as a follower can prepare you to be a greater leader than you could ever have imagined" "To Be A Great Leader, Learn How To Be A Great Follower" Bernhard Schroeder:
Privileged with the Longevity Blessing
Papa Ogunlesi wrote, "But my father lived to a ripe old age of 100 years, and my mother, more than 100 years, before they died. …. A study of past records of the family which I have made, suggests that the proper genes for longevity are there, and are being passed on, from one generation to the next".
After many struggles with strikes and strife in the College of Medicine, University of Ibadan, we are resuscitating memorial lectures and we will push for this earnestly. History is key as can be seen from the writing below:
Whoever wishes to foresee the future must consult the past; for human events ever resemble those of preceding times. This arises from the fact that they are produced by men who ever have been, and ever shall be, animated by the same passions, and thus they necessarily have the same results."
Machiavelli, Italian diplomat, author, philosopher and historian who lived during the Renaissance. He is best known for his political treatise The Prince, written around 1513.
Lessons from his letters about Igbo-Ora
On 23 September 2022, I received a letter from Emeritus Prof Ogunlesi announcing to me the death of his friend Prophet Sunday O Ojelabi. Prophet Ojelabi had written a book about Igbo-Ora and he was very concerned about the need to get the book published. He wrote in his letter:
"Five days before his death, he came to my house in Sagamu with five copies of his book (389 pages). I know that it has taken him about five years to write that book".
In his heart, it was his vision for the direction of Igbo-Ora in the years to come that was uppermost. He wrote:
"As a matter of fact, Professor Kenneth Dike, the first Nigerian Vice Chancellor of the University College Ibadan may have been thinking along the same lines when he made his inaugural address at an impressive ceremony at Igbo-ora Health Centre on February 9, 1963. In that address, he saw the project as a multipurpose University Training Centre for teaching practice and research that could lead to the social economic development of rural communities even though only the faculty of Medicine was involved at the beginning". He wrote on,
"I must acknowledge at this stage, the generosity of both Rockefeller and Ford foundations while I was the director of the programme. Dr. Jack Weir arranged virtually a worldwide tour for me to visit rural development programmes in Kenya, Tanzania, Zambia, India, Pakistan, Chile and several places in South America. I even had the rare privilege of a hand shake with the Indian Prime Minister".
Lessons from a phone call
I received a last phone call from Papa Emeritus Ogunlesi on 1st January 2023. This was a New Year greeting informing me he had made it to the year of his 100th birthday and was looking forward to a celebration on 12 July 2023. Truly, it was emphasised to me again that: "Many are the plans in a person's heart, but it is the LORD's purpose that prevails".
A final lesson in faith
As I was about to head on to Ibadan and leave his bedside, Papa Emeritus Professor T.O. Ogunlesi, prayed for me and for my success and then he gave me some counsel. He informed me that there was a hymn that he sung everyday as he set out for work. He enjoined me to sing that hymn every morning as I commit my day to the Lord. We sang the first verse of the hymn together and deep in thought I left him. When I got home, I asked my husband, Professor Akinyinka Omigbodun to please play the piano so I could sing the hymn Papa Emeritus Professor had prescribed and indeed the recording remains on my phone for me to sing often and remember. Composed by Charles Wesley in 1749, it was titled "Before Work", but famously known as "Forth in thy name, O Lord I go":
Forth in your name, O Lord, I go,
my daily labor to pursue,
determined only you to know
in all I think or speak or do.
The task your wisdom has assigned,
O let me cheerfully fulfill;
in all my works your presence find,
and prove your good and perfect will.
May I find you at my right hand;
your eyes see truly what I do.
I labor on at your command
and offer all my works to you.
Give me to bear your easy yoke
and ev'ry moment watch and pray
and still to things eternal look,
and hasten to your glorious day.
For you I joyously employ
whate'er you in grace have giv'n:
I run my daily course with joy
and closely walk with you to heav'n.
Olayinka O. Omigbodun, FAS, FNAMed, FAMedS
Professor of Psychiatry and Provost
College of Medicine, University of Ibadan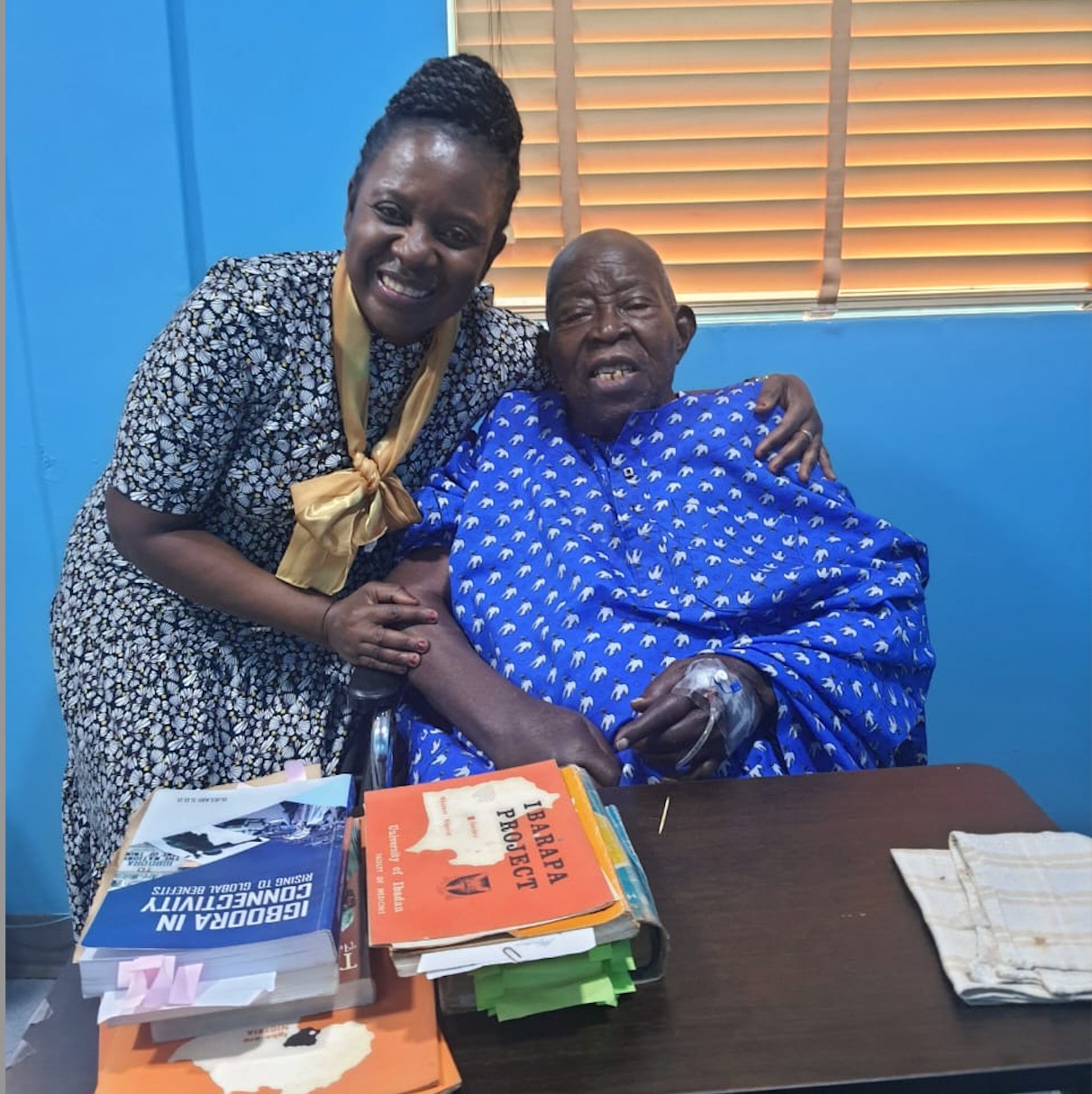 Professor Olayinka O. Omigbodun and Emeritus Professor T.O. Ogunlesi