The fund raising drive for the Student Hostel Project received another great boost with Dr. Rasaq Olanrewaju Abu of the College of Medicine, University of Ibadan (CoMUI), MBBS Class of 1984, attaining PLATINUM DONOR status with a donation of $13,000 (Thirteen Thousand United States Dollars). Dr. Abu has stated that he is making this great donation to honour the memory of his beloved late father, Alhaji Chief Ganiyu Olatunji Abu: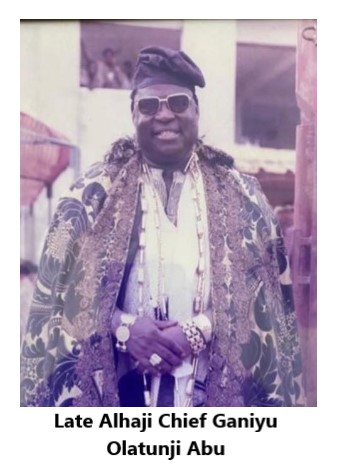 "My dad loved me, he respected me, was very proud of me, and he let me know it. Not only did he let me know it, he let the whole world know it. It is indeed, an honor, and a special privilege, to be able to honor him with this donation".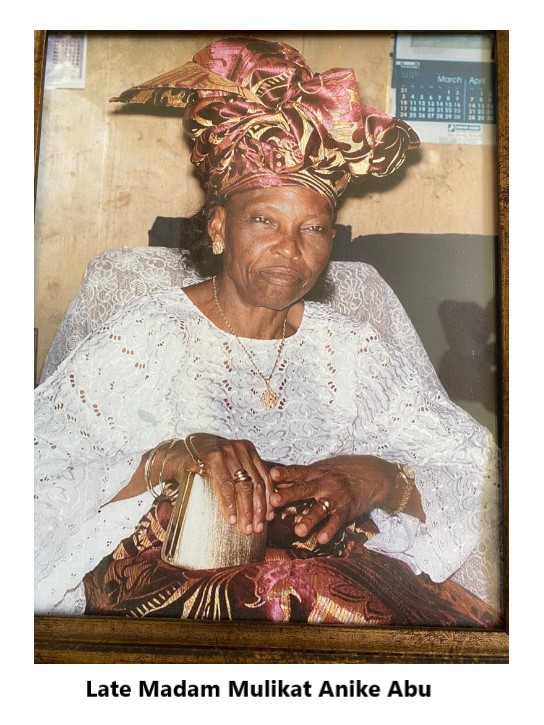 His father, Late Alhaji Chief Ganiyu Olatunji Abu was the Founder, Chairman, and Chief Executive of ASCO Group of Companies, and Balogun of Ishiwo, and his mother was Madam Mulikat Anike Abu (late). For his mother, Dr Abu was the first child and first son, and for his father, the sixth child, fourth son, and youngest of the four older sons.
Dr. Abu (also known affectionately by his friends as Larry, A B U, and A B Larry), was born in Lagos on April 3, 1959, into the Abu polygamous family from Ijebu-Ishiwo, Ogun State Nigeria.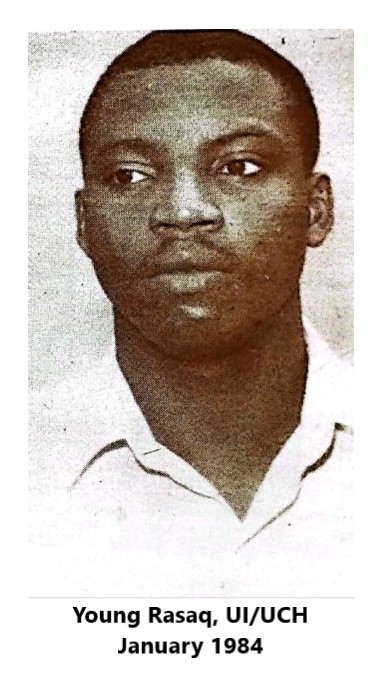 Upon graduating from College of Medicine, University of Ibadan in 1984, Dr Abu returned to Lagos to do his housemanship. After completing his National Youth Service Corp rotation, he joined his father to run the family business, ASCO Group of Companies, a multi-billion naira conglomerate, in 1986, serving as its Executive Director, at the young age of 27 years old, whilst at the same time, practicing medicine.
On 8th of July 1987, Dr Abu emigrated to the United States. Upon arriving in the United States, Dr Abu did a host of odd jobs, including working at Burger King as a burger boy, before passing the ECFMG exam which allowed him to get back into the practice of medicine.
He had his residency in Internal Medicine from July 1990 to June 1993 at Howard University Hospital, Washington DC, and a Cardiology Fellowship from July 1993 to June 1996, also at Howard University Hospital, Washington DC. After finishing the Cardiology Fellowship in June 1996, Dr Abu went straight into Private Cardiology Practice in Prince George's County, Maryland, combining it with business. Dr. Abu worked very hard, and according to him, "by the Special Grace and Blessing of Almighty God, success came early to me."
Dr Abu has several accolades to his name, including becoming the first black Chief of Cardiology at Doctors' Community Hospital, Lanham, Maryland, USA, from 2003 to 2005, within 7 years of finishing the Cardiology Fellowship. This was said to be an unimaginable feat, at that time, in Prince George's County, Maryland.
In the past 27 years, Dr Abu has been, the only Nigerian-American Cardiologist, in private cardiology practice, in the Washington DC Metropolitan area, comprising the City of Washington DC, the Maryland State sub-urbs of Montgomery County and Prince George's County to the North, and the Virginia State sub-urbs of Arlington City and Alexandria City, to the South. He is presently a Clinical Cardiologist at his newly reconstituted, and registered Cardiology Clinic, in Prince George's County, Maryland.
He is blessed with four children, who are also doing well, in their chosen careers.
Dr Abu describes himself as triple in one:
Firstly, a well-trained medical doctor out of CoMUI/UCH, Ibadan, Oyo State, Nigeria,

Secondly, a family-trained businessman out of the Abu business family of Ijebu-Ishiwo, Ogun Sate, Nigeria, under the tutelage of his father, and

Thirdly, a self-trained American Lawyer cum Political Analyst of worldwide repute.
He also describes himself as "a man of many gifts, who is so much blessed, and highly favored by Almighty God".
In attaining PLATNUM Status as a donor to his alma mater's student hostel project, Dr Abu dedicates this moment of his personal honor and glory, to the memories of his parents and in his own words:
"first, my dad, Late Alhaji Chief Ganiyu Olatunji Abu. My dad was my father, my dad, my mentor, my hero, and above all, my friend. I had a daddy …….., and
Second, my mum; Madam Mulikat Anike Abu, a very compassionate woman, who was a steadying force in the midst of so many potentially derailing storms, for me and my two younger full siblings, Dr Ganiat Abisola Lawal (nee Abu), and our late junior brother Mr Kamorudeen Olaitan Abolore Abu, in our polygamous household. May their souls find eternal peace, Amen."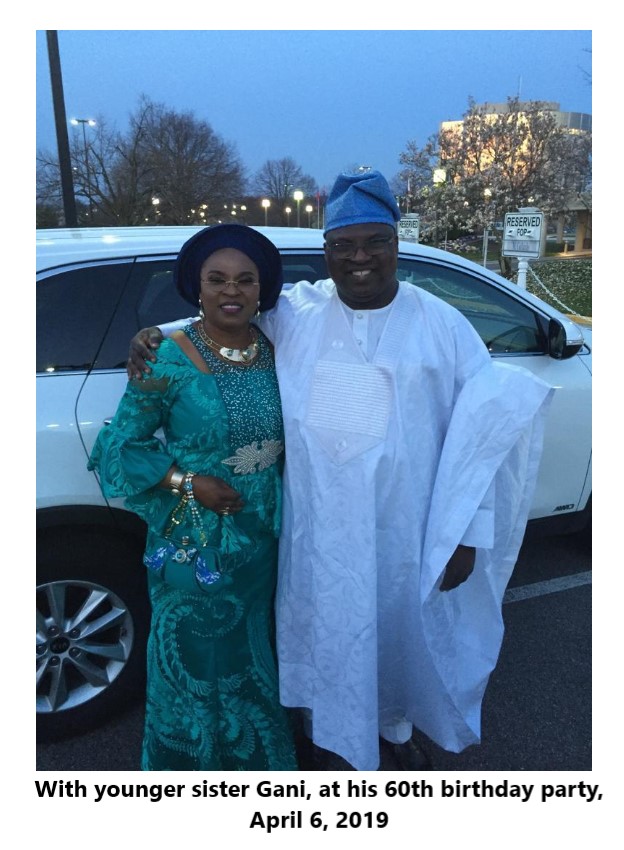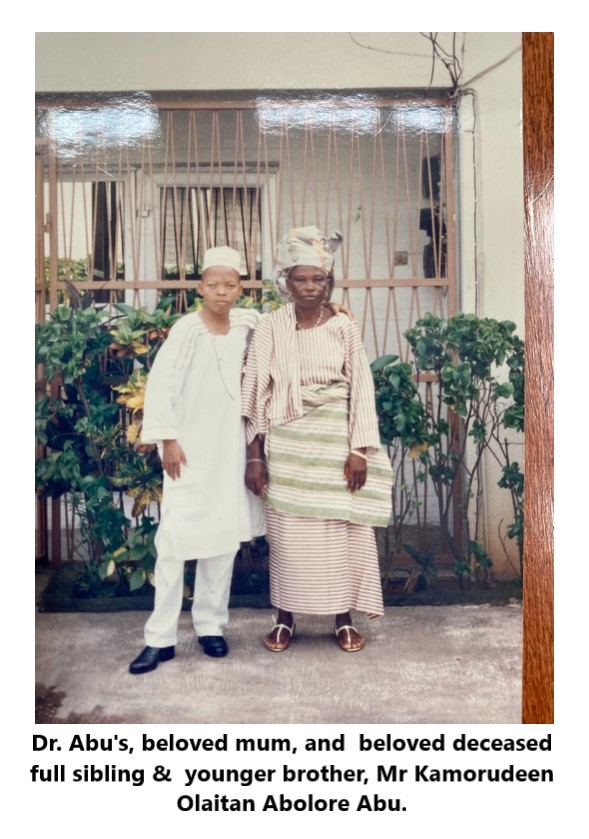 On behalf of the Students, Staff & Alumni of CoMUI, we extend out deep gratitude to Dr. Rasaq Olanrewaju Abu, PLATINUM DONOR to the CoMUI Student Hostel project. A legacy is being put in place and CoMUI's alumni, their families and friends are rising up to the occasion.
Dr. Abu, thank you for your sacrificial donation. Thank you for giving back and for honouring your parents.