On Saturday 2nd September 2023, another 127 graduates from the College of Medicine, University of Ibadan (CoMUI) will be inducted into the Medical Profession, marking a significant milestone in their journey. It is an occasion of great importance, as the students begin a new phase that will shape their careers and enable them to make a difference in the lives of others. It is therefore worth reflecting on the power of education, the value of generosity, and the inspiring stories of significant donors who work with the College's leadership to provide scholarship opportunities for students to attend, stay, and finish school. One such inspiring individual is Pastor Tola Odutola of Jesus House, Baltimore in the United States of America.
On July 10, 2023, the College of Medicine, University of Ibadan (CoMUI) hosted Pastor Tola Odutola of Jesus House, Baltimore, a Platinum Donor under the Sponsor-A-Student-Programme (SASP). Upon his arrival at the College, Pastor Taiwo Odutola was received by the Provost, Professor Olayinka Omigbodun FAS, who was joined by the College Management Team.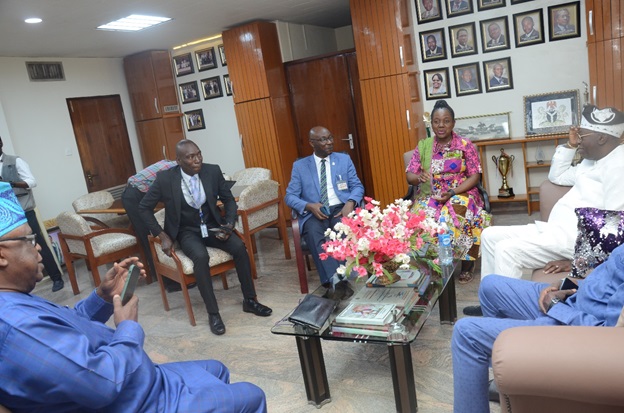 The Provost, Professor Olayinka Omigbodun FAS, hosts the distinguished visitor, Pastor Tola Odutola in her office.
Thereafter, Pastor Odutola was led to the venue of the award ceremony at the AOK Johnson Boardroom, College of Medicine, University of Ibadan.
In her opening address, the Provost expressed her gratitude to all attendees and recognized the pivotal role of Mr. Idowu Lawanson, the initial contact person who initiated the scholarship support process. The Provost recounted the challenges faced by many students who were struggling to meet their financial obligations, which often affected their academic performance and overall well-being. She said, "At the start of our tenure, we were receiving letters from students, asking to get time out from school because they couldn't pay their levies…. There were also many students who weren't doing well academically because they had to carry the burden of financial responsibilities which meant they had to do extra work to pay their levies."
Recalling the Inaugural Lecture given by Professor Temitayo Ogundiran, the Dean of Clinical Sciences, on Thursday 3rd June 2023 at the University of Ibadan Trenchard Hall, the Provost stressed the importance of supporting students in their educational journey. She shared the inspirational story of Professor Ogundiran's own hardships during medical school and how he triumphed over adversity to become a renowned Surgical Oncologist. She noted that Professor Ogundiran recounted how throughout his time in medical school, he could not pay for accommodation, had nothing to eat on some days, and lived on food supplied by his roommate. He had shared about how his mother sold firewood to send him to school until she could not cope with this anymore. The Provost emphasized the need to uplift students facing similar challenges.
She also spared some words of appreciation for Mr. Lawanson, whose attendance at his nephew's induction ceremony a few months ago had ignited his passion to make a difference. His determined efforts led him to Pastor Tayo Odutola of Jesus House, Baltimore, an alumnus of Loyola College. The event also saw the attendance and recognition of Loyola College alumni who were now academic staff in the College of Medicine by the Provost. They were the Head of Department, Obstetrics and Gynaecology, Professor Abiola Okunlola; the President of the Medical and Dental Consultant Association of Nigeria, Dr. Victor Makanjuola; and a former Provost of the College, Professor Akinyinka Omigbodun FAS.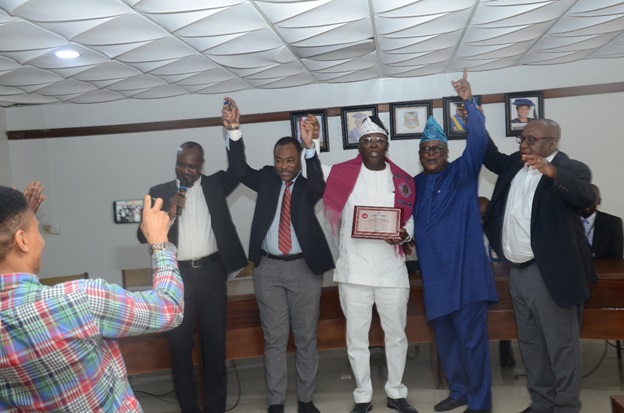 From L-R: Dr. Victor Makanjuola, Professor Akinyinka Omigbodun, Pastor Tola Odutola, Mr.Idowu Lawanson, and Professor Abiola Okunola – all old boys of Loyola College excitedly lifting one another's hands while singing the school's anthem.
Among other attendees from the College were key individuals dedicated to student welfare, including Dr. Bukola Adesina, Chairperson of the Student Welfare Committee and Revd. Adesanmi Adetule, Head of Information Technology Unit.
At the end of her address, the Provost announced that the substantial support received from Pastor Tola Odutola, amounted to six million, two hundred and ninety-three thousand naira (N6,293,000). She added that the generous contribution will undoubtedly alleviate the financial burdens of numerous medical students, empowering them to focus on their studies and excel in their academic pursuits.
Upon invitation of the Provost, the Chairperson of the Student Welfare Committee, Dr. Bukola Adesina, gave the criteria for selecting beneficiaries of the sponsorship programme. These criteria encompassed various factors, including the loss of a parent, family circumstances, and financial need.
The heartfelt testimonies of two volunteer beneficiaries, Habeeb Ayofe Olaniyi and Sarah Chukwudumebi Ozowara, shed light on the significant impact of the scholarship. Habeeb, who had to defer his studies due to financial constraints, shared his struggles of finding odd jobs to make ends meet, and going without food at times. Sarah recounted her arduous journey, working tirelessly to support herself and her mother who was a groundnut seller, all while striving for academic excellence. She also mentioned that prior to her admission, she worked in a factory from 8am – 6pm, which required a long-distance trek to work. Both students expressed their gratitude for the relief provided by the scholarship, which not only eased their financial burdens but also supported their commitment to their education.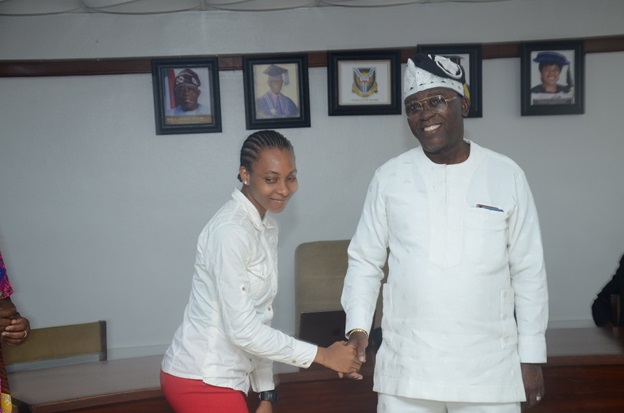 Pastor Tola Odutola giving a handshake to Sarah Chukwudumebi Ozowara, one of the scholars and beneficiaries of Jesus House Scholarship under the Sponsor-A-Student-Programme. Pastor Odutola personally interacted and shook hands with all beneficiaries,
Pastor Taiwo Odutola received a well-deserved honour from the Provost—a plaque and sash—acknowledging his significant contribution to the Sponsor-A-Student Programme.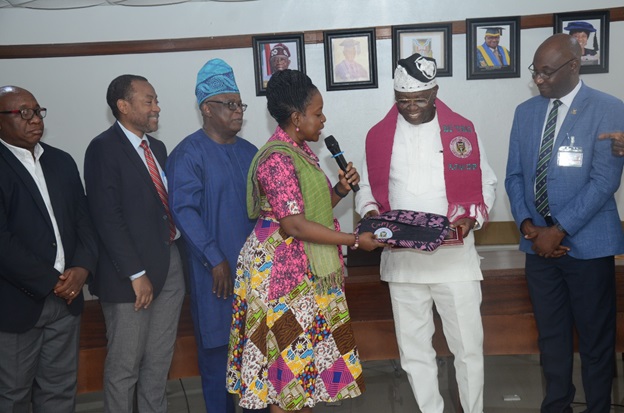 The Provost presenting the plaque and CoMUI merchandise to Pastor Odutola while the Loyola Old Boys group and the Deputy Provost, Professor A.F. Adeniyi, look on.
In his response, Pastor Taiwo Odutola appreciated the College's leadership for the warm welcome. He acknowledged that he saw their story in his history too. Born into a family of nine siblings, he saw his father for the first time when he was nine, and the next time when he was twenty. He did all kinds of odd jobs, selling at Ogunpa market while attending Loyola College. He also went to the Oje market to sell clothes with his mother. He said, "I have seen poverty".
He however acknowledged God's blessings, and how he has been blessed with people who power the foundation he runs, based on shared friendship and goodwill. He said that after making a personal contribution to the scholarship programme, he invited the church members to participate after sharing the vision. This was how the money started coming. More so, the extension of his visit to Nigeria was to serve a party lunch to the students at Loyola College, his alma mater, as a significant gesture to encourage the children to think beyond where they are.
Through his personal experiences and the support of others, Pastor Taiwo Odutola believes he has been able to create a foundation that not only provides scholarships but also encourages young students to dream big and strive for a better future. We celebrate his support and opportunity to make a significant difference in the lives of students at the College of Medicine, University of Ibadan.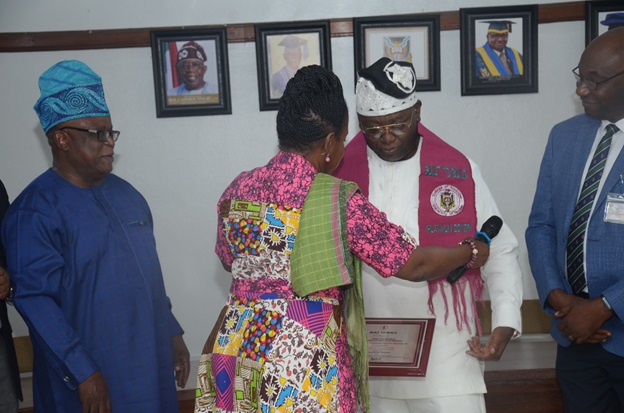 Watch the Inaugural Lecture:
Watch the Award Ceremony: