Dr. Olayiwola Ajileye is set to lead the Ibadan College of Medicine Alumni Association (ICOMAA) in United Kingdom and Ireland. Dr Ajileye is a MBBS 1997 alumnus of the College of Medicine, University of Ibadan (CoMUI).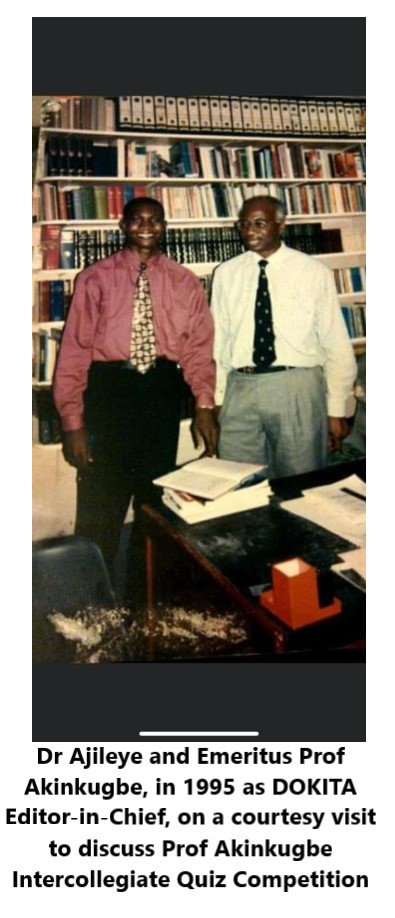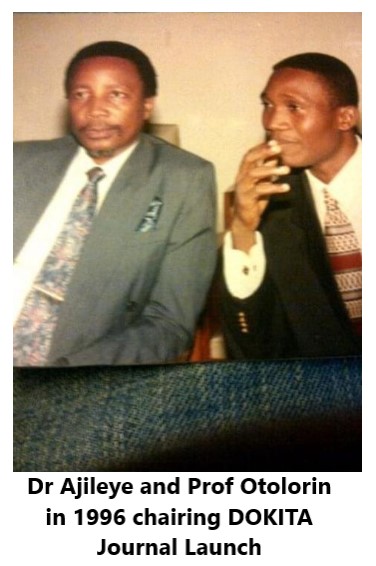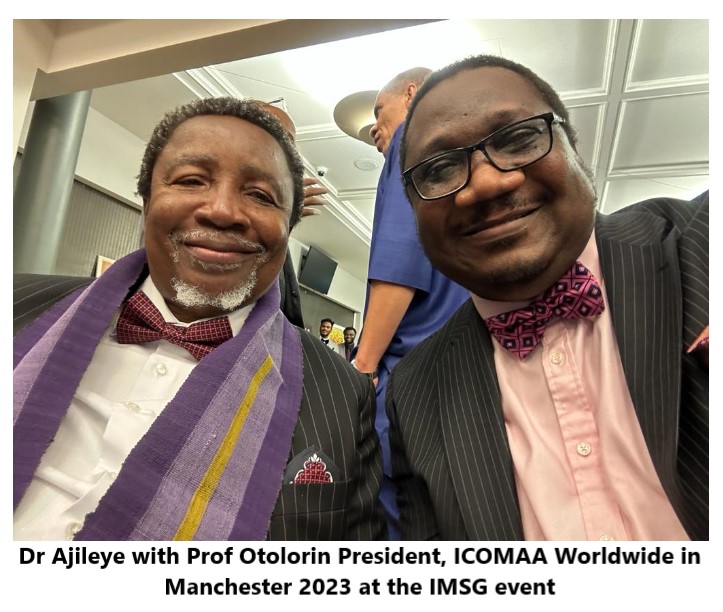 He was the Editor-in-Chief, of the DOKITA Editorial Board in 1996 when the first Intercollegiate Quiz Competition named after Emeritus Professor Akinkugbe was inaugurated. When recommending Dr. Ajileye for the Provost Award, Emeritus Professor Akinkugbe wrote, "In the years that I have come to know him, I have observed certain unique qualities that mark him out for inevitable leadership. He is extremely industrious. Mr Ajileye is an outstanding and remarkable medical student with an uncommon espirit de corp, very rare amongst the youths of today. I invite attention to his human and humane disposition, his fund of initiative, and his readiness at all times to give of his best to noble causes and he carries all these attributes with enduring grace and humility amply blending the imperatives of character and learning in forming a sound basis for education and leadership".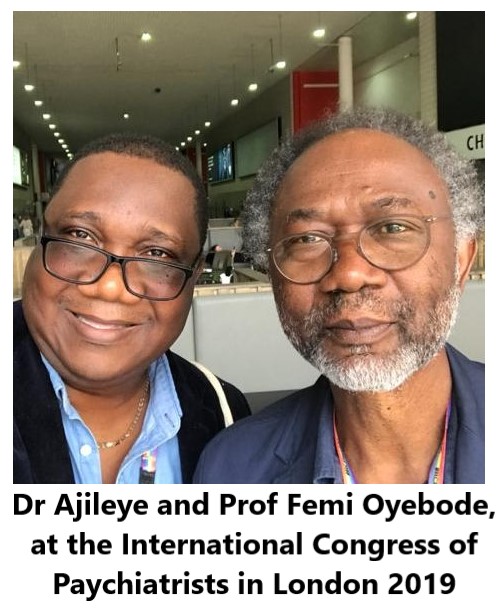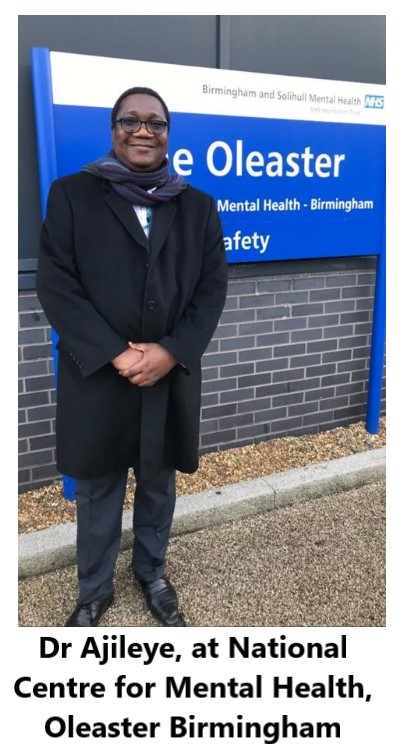 Since graduating from the College of Medicine, Dr Ajileye had developed and amassed a unique blend of cognate professional expertise, skills, and experiences. He is currently a substantive Consultant Psychiatrist and Responsible Clinician (Acute Care) with the Acute Care Directorate in Birmingham and Solihull Mental Health Foundation NHS Trust. He is also a Senior Academic Tutor (SAT) in Psychiatry and Neurology (Undergraduate), at the Institute of Clinical Sciences, College of Medicine, University of Birmingham, where he worked with Renowned Psychiatrist and Poet, Prof Femi Oyebode, Head of Psychiatry, University of Birmingham and a great alumnus of CoMUI from the MBBS Class of 1979.
Dr Ajileye also practices in Legal and Forensic Medicine, and he is a Forensic Physician and independent medical examiner to the West Midlands Police, Sexual Assault Referral Centre (SARC) and Criminal Justice Centre, Northamptonshire Constabulary, UK. He has worked as a Consultant Psychiatrist to His Majesty's Prison, Onley Low secured Prison, Northamptonshire. He is a professional medical expert witness in childcare proceedings and criminal matter on fitness to plead, fitness to detain, fitness to stand trial, litigating capacity in Family and Crown courts in the UK. He is the Medical Director/CEO of Pivot Medical Services Inc UK.
Personal Life
Dr Ajileye was born in Ibadan in June 1972 to Mr Moses Abodunrin and Mrs Veronica Adunni Ajileye, his father was a teacher and mother was an administrator with Nigerian Tobacco company (NTC). He lost his father when he was only 14 years old in 1986 just before his O'Level examinations. While visiting his father on admission at the University College Hospital (UCH) Ibadan, the seed to pursue a medical career was sown when he saw the environment and the excellent care his father got. He was propelled to focus his intellectual talent and energy on becoming the first doctor in the family. Ten (10) years later, he was inducted as a qualified medical doctor at the College of Medicine, University of Ibadan.
Following the death of his father, Dr Ajileye went to live with his dear Uncle, Justice Samuel Olarewaju Ajileye of blessed memory, who supported his ambition to achieve his dream. He completed his secondary education at Celestial Church High School Ibadan and obtained his A levels at Government College, Ibadan in 1989. He was admitted to study Medicine at the University of Ibadan in 1989. He was to graduate in 1995 but for the 2 years of university strikes, the class graduated in February 1997.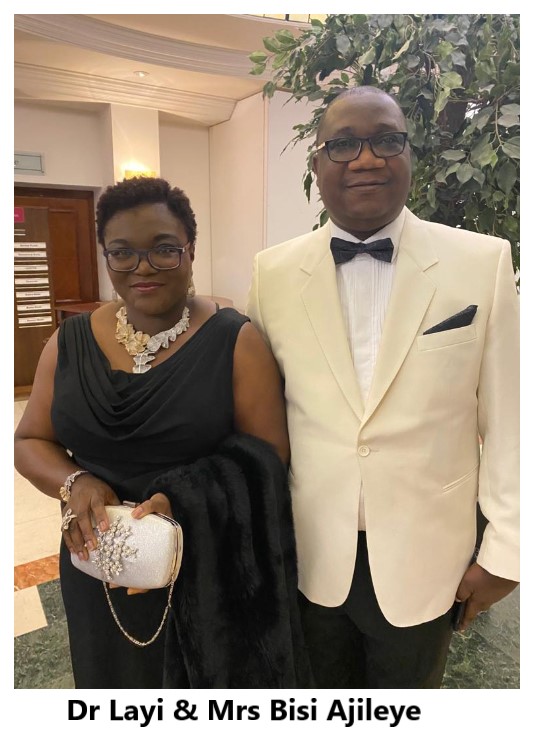 He is married to Adebisi Ajileye, nee Ayoade, a Senior Biomedical Scientist (Microbiology) with Public Health England (PHE) and Genomic Scientist (Whole Genome Sequencing (WGS) Laboratory), Technical Lead, Global Health, UK Health Security Agency (UKHSA). She is the CEO of Tikvah Hope Sanctuary UK. They are blessed with 3 lovely children.
Post-Graduate Career
Dr Ajileye started his post-qualification career as a House Officer with First Consultants Hospital, Ikoyi Lagos under the supervision of the Nigerian Medical Heroine, Dr Stella Adadevoh who paid the supreme price to stop the spread of Ebola Virus in Nigeria. He later worked as a Senior Medical Officer with Royal Cross Hospital, Lagos in the firm of Dr Seyi Roberts, Consultant Neurologist, Dr Leke Oshunniyi, and Dr Doyin Okupe. Dr Ajileye's quest for knowledge and growth took him to the United Kingdom in 2000 where he enrolled with the Chartered Institute of Insurance (CII), London, where he studied Health Insurance Management, and he became Certified in Health Insurance Business with the CII. He had his eyes set out for a career in international health diplomacy and system administration, majoring in Health insurance development.
He advanced his training and education with a Masters (MSc) Degree (2002) in International Health Management, Policy, and Development, from the School of Public Policy, Health Service Management Centre, University of Birmingham, where he was top of the class with his thesis "Health Insurance Development in the Informal Sector in the context of developing economies". This attracted the attention of the United Nations, government of Ghana and Nigerian Government, and he was made an honorary Consultant to the National Health Insurance Scheme (NHIS) and International Labour Organisation (ILO). His thesis contributed to the policy direction and implementation of the National Health insurance Scheme (NHIS) in its infancy.
Dr Ajileye's took a career detour in the United Kingdom when his wife arrived in 2002 with her own energy and drive to further her study and start a family. That led to a complete change of career course from International Health diplomacy and Management to clinical specialties and this took him to enrol with the Royal College of Psychiatrists for residency training.
He was admitted to the Keele University rotation in Psychiatry for his Basic Psychiatric training which he completed after gaining sub-specialty core training and experience in General Adult Psychiatry, Psychogeriatrics, Addiction Psychiatry, Child and Adolescent Psychiatry, Rehabilitation psychiatry and Forensic Psychiatry across different hospitals within the West Midlands, Black Country, and Shropshire. While in residency, Dr Ajileye won the scholarship for his special interest to study postgraduate Adolescent Addiction Studies at Keele University under Prof Ilana Crome.
Following his basic rotational Psychiatric training, Dr Ajileye took a position as a specialty grade psychiatrist in the NHS in a non-training post and rose to be appointed as a Consultant Psychiatrist in Liaison Psychiatry in Old Age Mental Health Services in 2014 at Nottinghamshire Mental Health Trust. Dr Ajileye is on the specialist register in General Psychiatry with the General Medical Council (GMC). He is also a Mental Health Act (MHA) Sec 12(2) Approved clinician by the secretary of state. While working, he decided to return to formal education post-COVID in 2020 and obtained a Postgraduate Diploma in Psychiatry from Cardiff University and is currently working on a thesis titled "Repetitive Transcranial Magnetic stimulation (rTMS) and clinical evaluation in Neuromodulation for affective disorder" in order to obtain a Master of Science degree in Psychiatry from Cardiff University. He completed Telepsychiatry training with Harvard Medical School, Global Access Institute, Boston USA where he obtained Advanced Certificate in Telemedicine in 2020.
Dr Ajileye enrolled at the Royal College of Physicians, Faculty of Forensic and Legal Medicine in 2012. His interest in Legal medicine came from his family background of legal Jurist and Lawyers, and his keenness to blend Medicine with Law, being the first medical doctor in the family of lawyers and Judges. Dr Ajileye achieved his professional and educational aim following completion of his training with the Faculty of Forensic and Legal Medicine in 2015 when he became a member of the faculty and certified in Forensic and Legal medicine. In addition to his NHS Consultant Psychiatrist role, he is the Forensic Physician in General Forensics and Sexual Offences to the West Midlands Police, Sexual Assault Referral Centre (SARC) and Criminal Justice Centre, Northamptonshire Constabulary.
He has provided well over 200 professional expert witness reports to Family and Crown courts on several important complex cases on childcare proceedings, sexual offences, criminal matter, litigating capacity, mental health tribunals, Court of protection and deprivation of Liberty cases. Dr Ajileye is a sought-after public speaker on Mental Health Issues, he was recently invited in 2021 by the Lagos Business School (Executive MBA Alumni Class), Pan African University to speak on "The Landscape of Emptiness – Overcoming and managing personal and professional loss" and he was a guest Speaker in 2020 by the Lagos University Teaching Hospital (LASUTH) on "Suicide Prevention amongst Health workers during and after the Pandemic".
He is a member and specialist associates of professional bodies, Royal College of Physician (Forensic & Legal Medicine), Royal College of Psychiatrists, Royal Society of Medicine, British Medical Associations and Medical Defence Union.
Dr Ajileye has great affinity for charitable giving and philanthropy. He supports Medicine San Frontier (MSF, UK), Dogs Trust UK, St Johns Ambulance, Cancer UK, Brain and Body Foundation (Nigeria), DOKITA Editorial Board (Nigeria). He is the Chairman, Board of Trustee of Tikvah Hope Sanctuary. He has participated in several fund-raising activities with so many groups and organisations. He is a card member of the Labour Party, UK.
In his spare time, Dr Ajileye enjoys spending time with family and friends, playing piano and violin, he is a follower of global and local Nigeria Politics, he loves writing on socio-political and medical issues with so many published articles online. Dr Ajileye also enjoys travelling across the globe with friends to watch Formula One (F1) car racing sport with F1 Brotherhood Group, UK. He is a Christian and he loves to have fun and party.