Dear Members of the College of Medicine, University of Ibadan (CoMUI) Community, Staff, Students, our ever so Supportive Alumni, & the General Public,
I am delighted to invite you to attend the 4th NWUGA Physiotherapy Foundation Distinguished Annual Lecture. This will be delivered by none other than a distinguished Professor of Physiotherapy, Professor Ade Fatai Adeniyi, Deputy Provost, College of Medicine, University of Ibadan. Professor Adeniyi had focused his research and practice on physical activity and health promotion especially as these prevent and control noncommunicable diseases such as diabetics. He had also researched extensively into the role of physical activity for health promotion. He is the Director of Physical Activity and an Executive Board Member of the Nigerian Heart Foundation. He is also the Nigeria National Centre Director of Exercise in Medicine, an agency coordinated by the American College of Sports Medicine with National Centres in almost 50 countries across the globe.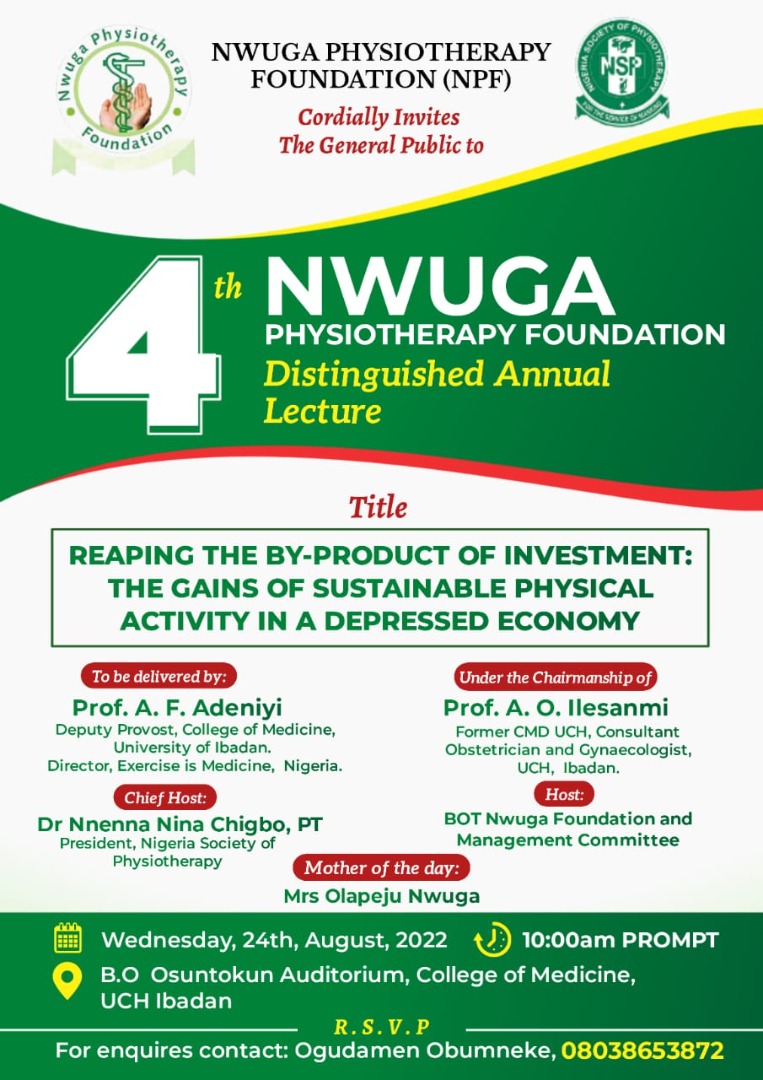 Professor Adeniyi will speak on "Reaping the By-Product of Investment: The Gains of Sustainable Physical Activity in a Depressed Economy", at the 4th NWUGA Physiotherapy Distinguished Foundation Annual Lecture.
The Nwuga Physiotherapy Foundation (NPF) is a non-profit organization formed by the Nigeria Society of Physiotherapy (NSP) with a mission "Promote Optimal Health through Innovation" and a vision "To Expand the Frontiers of Physiotherapy by Promoting and Enabling Collaboration and Innovative Research Work".
The Foundation is named after the first Professor of Physiotherapy in Africa, Vincent Chukuka Babatunde Nwuga (late), in recognition of his ideals and unique contributions to Physiotherapy. This Foundation also honours him as the originator of a globally acknowledged novel technique: Nwugarian Technique of Manipulative Therapy (NTMT) for back pain management. He was also Emeritus professor in the Department of Medical Rehabilitation, College of Health Sciences, Obafemi Awolowo University (OAU), Ile-Ife. The NPF was formally launched on 6th November 2014 at the opening ceremony of the 54th Annual Conference and Annual General Meeting of the Nigeria Society of Physiotherapy, "Asaba 2014", with the approval and blessing of Emeritus Professor VCB Nwuga.
The Foundation has a 10-point mandate, one of which is to organize an annual public lecture in perpetuity in honour of the late Emeritus Professor VCB Nwuga. It is this mandate that the present lecture intends to fulfil.
I am delighted that the Deputy Provost of CoMUI will deliver this 4th edition and I therefore invite you to attend. This details are in the flier and also as follows:
Date: Aug 24, 2022
Time: 10:00 AM West Central Africa
Join Zoom Meeting
https://us02web.zoom.us/j/84291495457?pwd=TzZRSHZkRzUxOWYwUUFCTVpYbUp4QT09
Meeting ID: 842 9149 5457
Passcode: NWUGA4


Thank you very much.
Olayinka Omigbodun
Professor of Psychiatry and Provost